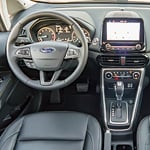 If you get excited about vehicle amenities, then you'll love the Ford EcoSport. This compact crossover vehicle does everything that a crossover should, and much more. What we mean by that here at Steet-Ponte Ford is that you'll get efficiency and versatility out of the EcoSport. However, you'll also get amenities.
The Ecosport comes packing luxury with a sense of ease not often seen in crossover vehicles. Features like a heated steering wheel will make those winter morning commutes a little less miserable, while leather-trimmed seats will guarantee all seasons will be enjoyed with just a bit more comfort for you and your passengers.
To see even more amenities and luxury features for the Ford Ecosport, come visit our premises here in Yorkville, NY. Once you decide to test drive the EcoSport, we don't think you'll have anything to say besides all the compliments we've been laying on this incredible crossover vehicle.