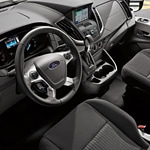 If you are looking for a top passenger van for your operations, then you will want to look at what the Ford Transit Passenger Wagon has to offer. This passenger van is trusted by thousands of businesses around the country. Here is a look at some of the capability features available on the vehicle.
All-Wheel-Drive Capability
When the weather and the roads get challenging, the Ford Transit Passenger Wagon can keep your business on the road with its available all-wheel-drive. This will be the first time that all-wheel-drive will be available. This will allow the van to have a better grip and handling on the road.
31 Gallon Capacity Fuel Tank
? When you are running a business, you will want to have as little downtime as possible. That's why the Ford Transit Passenger Wagon now comes with a 31-gallon fuel tank. This will give you more time between fuel stops.