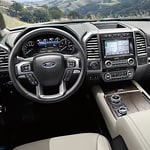 If you are looking for a large SUV that has exceptional technology features, check out the Ford Expedition. The Ford Expedition not only has premium safety technology, but this SUV also has great in-vehicle features.
Some of the premium safety technology includes intersection assist, which lets you know if there is a vehicle coming your way when you need to go through an intersection and make a turn. Also, the Ford Expedition has pre-collision assistance with AEB. This feature scans the road ahead so that you are aware of any potential collisions.
The in-vehicle technology for the Ford Expedition starts with a large 15.5-inch display. The display allows you to easily see and access most of the technology features that come with this SUV. There is also a dynamic digital instrument cluster that is 12.4 inches and has a productivity screen as well as customizable features.