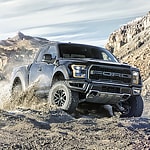 If you are looking to have some serious fun in a truck, then you want to see what the Ford F-150 Raptor can offer. This is the top performance truck on the road with some serious features under the hood.
Let's start with the engine. The Raptor comes standard with a powerful 3.5-liter engine that gives you up to 450 horsepower. That's enough power to launch the Raptor from 0 to 60 miles per hour in just 5.5 seconds.
For those who want to have incredible performance on any terrain, the Ford F-150 Raptor also comes standard with FOX body shocks. These shocks are designed to give you excellent control and stability when giving over the most challenging terrain. The highlight of these shocks is its Live Valve technology that allows them to adapt to terrain in real-time to actively. This allows you to have more confidence no matter what kind of terrain you are on.