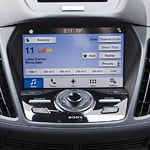 Technology in the vehicle is used for important things like safety and entertainment. The Ford Escape is a popular choice in the crossover vehicle category. It has the user-friendly SYNC 3 infotainment system available for you and so much more. Those of us at Steet-Ponte Ford are here to help you get to know some of the technology options within the Escape.
Technology is seen in plenty of standard safety features in the vehicle. The blind-spot monitoring system notifies you when a vehicle or object is occupying your blind-spot. The trouble of merging lanes is made much easier thanks to this feature.
As aforementioned, the available SYNC 3 infotainment system comes with a responsive 8-inch touchscreen, Apple CarPlay, Android Auto, navigation, a 10-speaker Bang & Olufsen audio system, and much more. Don't hesitate to visit our showroom in Yorkville, NY to see the Escape up close. Schedule a test drive to see what makes the Ford Escape a popular choice on the roadways.