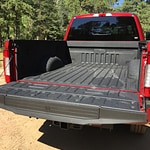 You're not alone if you're looking for a capable truck that will get the job done. At Steet-Ponte Ford, many of our customers come to us trying to find a vehicle that will live up to their expectations. We often point them in the direction of the Ford Super Duty.
This truck seems to have it all, from modern technology to a powerful engine. In fact, there are three engines for you to choose from. The standard engine is a 6.2-liter flex-fuel V8 model. The other two are also V8s, with one being a 7.3-liter gas version and the other being a 6.7-liter Power Stroke diesel. With the 7.3-liter, you'll have 430 horsepower and 475 pound-feet of torque; the diesel delivers an impressive 1,050 pound-feet of torque.
The Ford Super Duty would be a smart choice if you're in the market for a truck that's a leader in its field.